2019 Featured Quilter: Kathy O'Donnell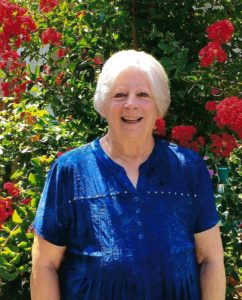 Hi!
My name is Kathy O'Donnell and I am thrilled to be the Featured Quilter for the 2019 Valley Quilt Guild Show.
When I was a young child, my grandmother let me use her prized but old Singer sewing machine.  I could use only crepe paper, no thread, and I sewed until I had punched a million needle holes.  After needle holes, I graduated to embroidery and watched my grandmother stitch beautiful pillowcases and tablecloths.  Her knowledge remains with me today.
Once married, my husband and I were off to see the world via the United States Marine Corps.  Duty stations included southern California, Japan, Hawaii and North Carolina among others. While in Japan, I met LaDonna in the waiting room of the OB Clinic.  We were both expecting babies within weeks of each other and we became fast friends. As a small child, LaDonna was raised in West Virginia and her father was a coal miner.  I watched her cut and sew bright red fabric into many pretty designs. I had never seen anything quite like this before! She said it was called a quilt, and I knew I had to have one.  So, we got together regularly and managed to sew while avoiding the kids' peanut butter and jelly when working at the kitchen table. So, now I am hooked!
As time went on and we moved from place to place, I met "bunches" of wonderful and patient ladies.  I especially enjoyed working at a small quilt shop in North Carolina where I was able to refine my skills.  I also taught craft classes and supplied the local "Mercantile" with hand made items such as bunnies, dolls, mice etc. to sell.
It was now the early 1990's and, after 22 years we retired and came home to San Francisco, California and began another chapter in our lives.  Eleven and a half years ago, we moved to Plumas Lake where I met a terrific and bubbly long arm quilter, Cathy Evans. She invited me to join the guild, so in 2011 I became a member.
I've enjoyed being a member of the guild and have expanded my skills with classes and teaching.  I especially enjoy Fridays as they have become a special day to sew, socialize and exchange ideas at Friends Around the Block quilt store.
I hope you enjoy the show!