Thank you to everyone that organized, worked, and helped at the quilt show; it was amazing! The upper-level quilts looked great! Colleen did a great job with the quilt show and the Veteran's quilt presentations! The smiles. The laughter. The tears. Very moving! Everyone really pulled together and made it run so smoothly! The new pole and drape system made the quilts pop! Many people were so impressed with them, we got quite a few complements. Next year we welcome Janell Willis, the new quilt chair for the 2024 quilt show; it's sure to be a success!
2023 Opportunity Quilt:
Stars and Stripes Forever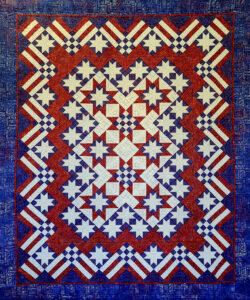 Stars and Stripes Forever by Cathy Evans
Joined Valley Quilt Guild in 2006. Started sewing with Mom when I was six years old. Making quilts since 2004. Started "Quilts by Cathy" quilting business in 2008.
Proudly Sponsored by Sunsweet Gift Outlet
Past Quilt Shows
2021: Dancing with the Stars
2020: Journeys
2019: Heart and Home
2018: Rhapsody in Red